If anyone's curious, I renamed my character. Not a big deal. I may also poke Tak for the anime or manga or whatever where him and his buddies get these SS-uniform-wearing people and such.



Posts

: 135


Join date

: 2012-04-29


Age

: 24



Izzy came from Trinity Blood, as members of the Rozenkreutz Orden.

Azurael Roktar, Zurzak, and Xinran's characters come from a Visual Novel named: Dies Irae Also Sprach Zarathustra

Dies Irae has re-releases,
first is Dies Irae Also Sprach Zarathustra - Die Wiederkunft
Second is Dies Irae - Acta Est Fabula-
Third is Dies Irae - Amantes amentes-

Enjoy.
Oh, Reuentahl is Oskar von Reuentahl from Legend of Galactic Heroes and later the Necron Lord from Warhammer 40k
Doctor Varz is the Doc from Hellsing's Millenium.
Schultz Sarath is the Captain from same Hellsing's Millenium.
Tiferet and Chesed are the twins from Black Lagoon
Benjamin Cromwell is Walter from Hellsing.
Rahven Cromwell is Lelouch from Code Geass.

the list goes on of course.
Thank you, sir. I grabbed a character from Trinity Blood... but I forgot the name.

At any rate, you'll notice I have this huge blank space on my new sig. I'll probably add some caption there but I have no idea what to put there right now.



Posts

: 135


Join date

: 2012-04-29


Age

: 24



Oh, you chose the blade dancer from the Vatican AX branch. He be funny because he has this whole story series in the Lowlands Benelux area all to himself with occasional cameos from other characters from the main storyline.

The great thing is it has almost nothing to do with the main story...at least at the point where the author got up to before the forces that be took him away from us far too early.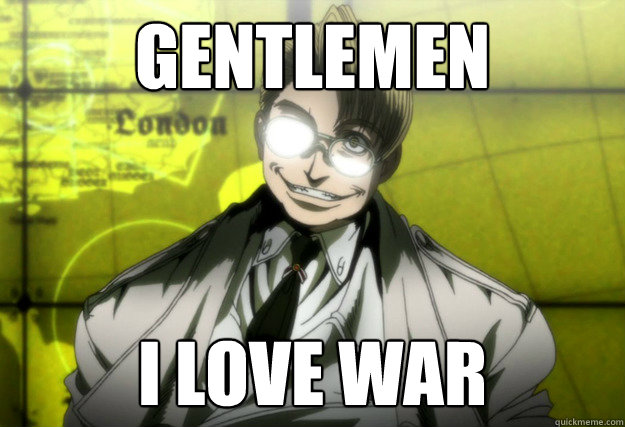 _________________
Scoundrel
Lover
Idiot




Posts

: 122


Join date

: 2012-07-30


Age

: 32


Location

: The Next Whisky Bar




---
Permissions in this forum:
You
cannot
reply to topics in this forum